Welcome! With over 12,000 subscribers worldwide, Photography 101 is the most popular photography podcast in iTunes!
---
Introducing the new PHOTOGRAPHY 1O1 APP!
- - NOW AVAILABLE FOR ANDROID!- -
- - GET IT HERE! - -
The perfect app for your iPhone, iPod Touch or iPad!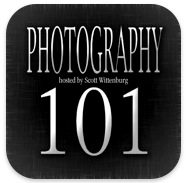 Get it at the iTunes App Store
Features quick, easy viewing of ALL episodes of the podcast, bonus extras and much more!